The Matsuzawa Micro Vickers Hardness Tester MMT-X has a 6-station turret, double indenters, and 4 objectives. The turret can be loaded with two indenters. The design of four objective double indenters and four objective lenses greatly improves the applicability of the instrument. The resolution in the 200X-1000X magnification range is accurate to 0.01um. PMT system: automatic reading, data processing, hardness tester control.
·New function configuration, color LCD touch screen
·6-station turret, double heads, 4 objectives
·Large tolerance, deep tolerance in the industry
·Wide load range
·LCD Queue Mode
·Magnification 200X-1000X, resolution 0.01um
·LED efficient energy-saving light source
Operation: color LCD touch screen
The color LCD touch screen greatly improves operability and visibility, and the assistant function allows the operator to set appropriate test conditions.
HK measurement mode HK measurement mode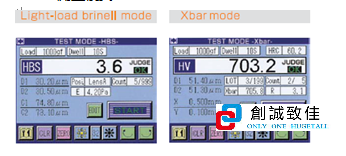 Small load Brinell measurement mode Mean and difference modes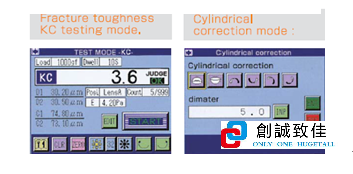 Fracture toughness measurement mode Surface correction mode
Functionality: The turret can be loaded with two indenters and four objectives
The design of double indenter and four objective lenses greatly improves the applicability of the instrument. The resolution in the magnification range of 200X-1000X can be accurate to 0.01um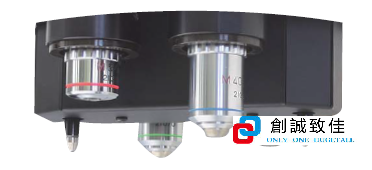 Integrated large LCD model
Clear indentation is displayed on the large TFT LCD display, without human eye focusing and measurement, greatly reducing the operator's fatigue of long-term measurement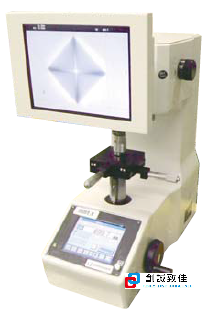 Assistant function: the three parameters of workpiece hardness, thickness and test load, just input two of them, the system will automatically calculate the third one, completely avoid misuse of load and wrong reading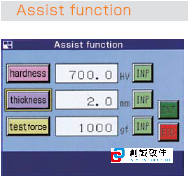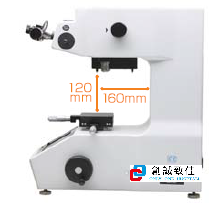 Equipment parameters:
Project/model

Mmt-x7, mmt-x series

load

standard

Type A

5,10,25,50,100,200,300,500,1000 gf




Type B

1,3,5,10,25,50,100,200,300,500,1000,2000 gf

Load the way

Automatic loading and unloading

Load faster

50 um/SEC

Warranty time is adjustable

5-99 seconds

Number of turret loading head

One standard (vickers);Optional 2 (one vickers, one knoop)

objective

2 standards (10X,50X);Optional 4 (2.5x-100x)

The eyepiece

The standard 10 x;Optional 15 x

Total magnification

Standard (100X,500X);Optional 25-1500 - x x

Measuring microscope

(400 x)

Measure the length of the

250 um

Ruler gauge

0.01 um (200 x - 1000 - x)

Unit of measure

0.01 um (200 x - 1000 - x)

species

electrical

The light source

The LED

turret

automatic

LCD touch screen

color

Measurement model

6 kinds of HV,HK,HBS,Kc,Xbar, surface correction

storage

999

Hardness conversion

According to the SAE (J - 417 (b), ASTM (E - 140)

Qualified to judge

The results are automatically judged by the size of the input

Statistical calculations

Max value, min value, average value, discreteness, conversion value

Artifacts are highly

120 mm

The depth of the workpiece

160 mm

Data output

Parallel port (for printers)

RS232C(for PC, also for printer

The accuracy of

Conform to JIS B7725 and ASTM e-384

The camera interface

There are

Size and weight

Host size W250XD520XH530mm,35kg

The power supply

50/60 hz single-phase AC100-240











Standard configuration:
| | | |
| --- | --- | --- |
| CODE NO | describe | MMT - X7 |
| M031 | Manual XY base, resolution 0.01mm, moving distance 25mm | 1 |
| M011 | Precision caliper with large opening of 50mm | 1 |
| M061 | Standard hardness block 700 hmv0.2 | 1 |
| M001 | Diamond head | 1 |
| M041 | Measuring microscope: electronic type | 1 |
| M042 | Measuring microscope: mechanical | |
| M072 | Objective 50 x | 1 |
| M074 | Objective 10 x | 1 |
| M111 | Level of support | 4 |
| M112 | level | 1 |
| M094 | insurance | 2 |
| C031 | Power cord (3P,2.5m) | 1 |
| M161 | Dust cover | 1 |
| | Operating instruction | 1 |
| | Auxiliary installation tool | 1 |
| | Check the table | 1 |
| | Vickers hardness table | |
設備參數:
Optional data transmission software HARDCOM
Information can be directly uploaded to excel sheet
Can upload test data, test parameters, statistics, histogram
The position of the measuring point corresponding to each hardness value (need to configure a digital micrometer ruler)